Integrated High tech FISH and POULTRY Farm Business plan
CAN FISH AND POULTRY FARMING COMBINE?
Fish ponds can be built along with poultry houses or sheds for better accessibility of chicken droppings. Integrated fish farming can be carried out with poultry, ducks, piggery, dairy, sericulture, horticulture, agriculture, and mushrooms.
HOW INTEGRATED FISH AND POULTRY FARMING BUSINESS PROFITABLE?
Integrated fish farming along with other livestock farming, such as poultry farming is one of the best models, for obtaining profits both with fish and chickens. You can adopt two types of manuring methods in this integrated system.
HOUSING SYSTEM
This shed demonstrates a 2-floor shed for fish and poultry farming together. The poultry house can also be constructed over the pond or on the bank of a pond. Such type of integrated farming system includes The droppings of the birds falling on the floor; from where these are collected and applied to the pond.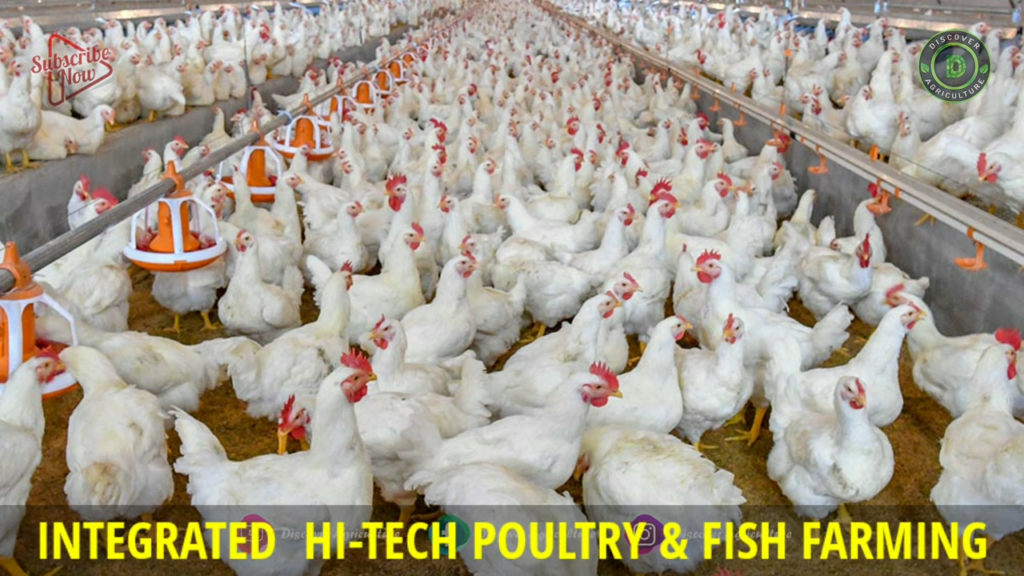 The roofing materials required like tins, asbestos sheets, and tiles may be used for construction. But here now in this design, bird droppings do not fall on the fish ponds. As in design, the ground floor is specifically for fish farming. That is developing fish farming in biofloc style.
CHICKEN BREED SELECTION
The dual-purpose bird for meat and egg are Vanaraja, Grama Priya, or kuroiler and for egg purpose bird is a white leghorn suitable for this integration. It depends on how developers want to start. Because poultry farming can be done in different ways; Such as poultry farming for meats, eggs, or both.

However, before deciding and finalizing the breeds and farming system you have to analyze the condition, climate, and budget. In addition, maintenance task is not easy as the system becomes large-scale.
FISH CULTIVATION IN TANK OR POND
Fish culture practice followed in the integration of fish farming. Composite fish culture is the most popular technique to obtain the maximum yield of fish from a pond. The composite fish culture system can be divided into 3.

1. Pre-stocking management: Related to the Construction of a fish farm or Renovation of an existing fish farm.
2. On stocking management: It includes; Selection of species, Fish species to be stocked, and Stocking.
3. Post stocking management: Is the task of Liming, Fertilization, Feeding, Water quality management, Fish health management, and fish Harvesting management.
ADVANTAGES OF INTEGRATED CHICKEN AND FISH FARMING
Maximization of resources since two economic activities take place in the same area (poultry and fish culture), which leads to an increase in productivity per unit area.

Reduces the risk involved in farm operations since it acts as a buffer in a situation where one part of the system fails.
It leads to better use of farm labor since the amount of labor required is lower compared to that needed for running poultry and fish culture separately.

Finally can be Concluded that; This type of integrated farming system requires huge investment. Also, it needs proper care and management; or else might result in disease infections in animals.
Also View: Integrated Livestock Farming | Integrated Animal and Bird Farming